Non-surgical Spinal Decompression
Each of us is constantly in a battle—with gravity! A frequent casualty is the soft disc material that separates each spinal bone. Pressure from our weight, trauma from an accident and other causes can increase the pressure on a weakened disc. In extreme cases, the soft pulpy center of the disc can escape. That can be quite painful.
We use the latest technology to help relieve the effects of back pain due to herniated and degenerated discs. Since discs are constantly under weight-bearing pressure, they can be slow to heal. By gently "stretching" your spine, we help relieve pressure and enhance healing. This is called disc decompression.
First, we'll have you lie down on our specially-equipped table. Then, ever so slowly, we'll stretch your spine. And then relax it. Stretch. And relax. Our patients tell us this tractioning process is quite pleasant, even relaxing. Because they don't feel the need to "guard" their spine, each sequence helps the damaged disc receive nourishment, expel cellular waste and enjoy reduced pressure. Then, healing can begin.
We provide non-surgical spinal decompression to alleviate both chronic and severe back pain. If you are in search of a clinically proven treatment for your back, look no further. Here's what you need to know about non-surgical spinal decompression.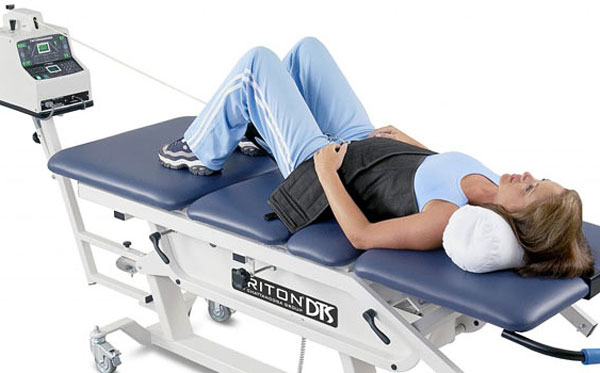 History
Dr. Allan Dyer developed spinal decompression in 1985 and created the first non-surgical spinal decompression table just six years later. The vertebral axial decompression therapy table, better known as the Vax-D, is utilized for reducing and eliminating back pain.
What it treats:
Non-surgical spinal decompression therapy helps treat a variety of different back issues. This includes:
Bulging discs
Herniated discs
Spinal stenosis
Sciatica
Worn spinal joints
Injured spinal nerve roots
How it works
This non-surgical treatment is designed to relieve pressure on joints and nerve roots on the spinal column. Following an initial consultation with one of our specialists, you would get onto the Vax-D, either face up or down, and hold hand grips at the top of the table. You should expect to put on a pelvic harness that is locked into the foot of the table. Our specialist will then spread the table apart slowly to stretch your spine. The specific angle and amount of stretching are customized to best suit your needs. This relieves the pressure that is placed on the discs, allowing them to absorb fluids and nutrients that promote healing of damaged tissues. While not a cure-all, our decompression table is highly effective, especially when combined with chiropractic care. Our experience shows that decompression can be helpful in supporting cases prone to frequent relapses. Do you know someone we could help overcome the effects of gravity?